Quince -
Cydonia oblonga (latin)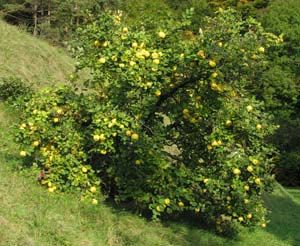 GNU Free Documentation License - Author: Dietrich Krieger
Geographic origin: Crete.
Adult size: Height up to 8 metres, width up to 6 metres.
Foliage: Deciduous.
Type of soil: All, except very chalky.
Climate: Hardy to -25°C. A frost whilst the tree is flowering or afterwards can harm the year's fruit production.
Position: Full sun, best protected from winds and springtime frosts.
Pollinators: Self fertile.
Characteristis and uses: The Quince tree is best known for its production of the fruit Quince, which is often used for jam, jelly or jellied fruits. They are picked between October and November. They can be eaten raw if they are nice and ripe.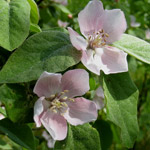 Its whitish pink flowers appear on the branches from April onwards.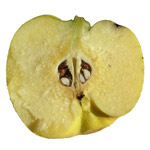 The variety 'Champion' produces large good quality fruit. The flesh is yellow and soft, as well as being juicy and scented.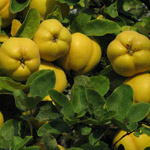 Author: Dietrich Krieger
The variety 'Vranja Giant' has a high yield, its fruits are large and pear shaped, light green to yellow in colour. Their flesh is scented and good quality.