Geographic origin: Japan, Korea, North East China.
Adult Dimensions: Height up to 4 meters (15m in its natural environment), width up to 3 meters.
Foliage: Evergreen.
Type of soil: Moist, light and not chalky.
Hardiness: Hardy to -20°C.
Site: Full sun.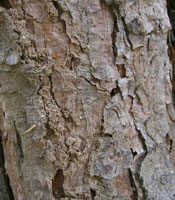 Author: KENPEI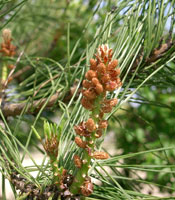 Author: KENPEI
Characteristics and uses: The Japanese Red Pine gets its name from its bark which becomes a reddish brown colour with age. Its yellow flowers that appear in the spring give way to very decorative purple cones at the beginning of summer. In addition its spreading shape often reminds people of a miniature umbrella pine.
It is ideal for growing alone in a small garden, or in the foreground of a park, it could even be grown as a bonsai specimen.
List of Pines:
Aleppo Pine (Pinus halepensis)
, extremely resistant to drought conditions, hardy to -10°C
Austrian Pine (Pinus nigra austriaca)
, dark bark and foliage
Bosnian pine (Pinus leucodermis)
, very decorative pine has smooth white and grey bark
Calabrian Pine (Pinus nigra calabrica)
, humid or chalky soil
Chinese White pine (Pinus armandii)
, is a rare tree that is often grown by collectors or bonsai lovers
Corsican Pine (Pinus nigra corsicana)
, dislikes chalky soil
Coulter Pine (Pinus coulteri)
, its bark is crimson brown
Dwarf Mugo Mughus Pine (Pinus mugo mughus)
, spreading shape, adult height 1,50m, sought after by bonsai connoisseurs
Dwarf Mugo Pumilio Pine (Pinus mugo pumilio)
, spreading shape, adult height 5m, sought after by bonsai connoisseurs
Eastern White Pine (Pinus strobus)
, grey green foliage, pyramidal shape, sought after by bonsai connoisseurs
Jack pine (Pinus banksiana)
, its wood is used for construction and wood pulp
Japanese Black Pine (Pinus thunbergii)
, it responds very well to cutting and miniaturising
Jeffrey pine (Pinus jeffreyi)
, brown bark that is covered with irregular furrows and gives off a scent of lemon and vanilla
Korean pine (Pinus koraiensis)
, the ideal candidate for growing as a bonsai
Lace back pine (Pinus bungeana)
, its bark is made up of greyish green or crimson red plates like those of the plane tree
Loblolly Pine (Pinus taeda)
Maritime Pine (Pinus pinaster)
, dislikes chalky soil
Monterrey Pine (Pinus radiata)
, beautiful ornamental tree, pale foliage, hardy to -15°C
Mountain pine (Pinus montana uncinata)
, dark bark and foliage
Scots Pine (Pinus sylvestris)
, salmon coloured bark and bluish green foliage
Umbrella Pine (Pinus pinea)
, umbrella shaped
Wollemi Pine (Wollemia nobilis Jones)
, collectors' tree, acidic soil, hardy to -12°C
See the Pine catalogue
See also the Fir Trees