Garden structures
Although your garden is a personnel space, there still exist many rules that apply to any small structure or shelter that you erect! If you make a mistake then a neighbour could always cause trouble...
Wooden structures are also subject to the necessary administrative authorisation.
A simple rule
For constructions that cover less than 2m² of ground space, you can do what you like. A small garden shed, a play house for the children, a modest sized chicken coop or a container for your plants are all deemed small structures to which no rules apply. The law also says nothing for other lightweight structures that contain no masonry, are easily moveable and less than 1.80m in height such as wooden sheds or green houses. This means that you can build a wooden shed with a surface greater than 2 m² without any worry as long as it is not higher than 1.80m.
However if the structure contains any brick or stonework like a raised patio then a building permit will be required as soon as its height exceeds 60cm or its surface area is greater than 20 m² and it adjoins the house.
Follow the right steps from the beginning
If the surface area of any garden structure is greater than 2m² it should be declared to the local town hall. A form will need to be filled in giving all the necessary information so that the authorities can examine your project. You should receive a response in less than a month. In reality, there is a high degree of tolerance. Often you can build your little cabin or carport without even getting authorization as long as it is discreet and in keeping with the surroundings. However, be careful: neighbours can take action and cause you a lot of trouble. In this case, you will need to declare the situation to the local town hall and sort everything out.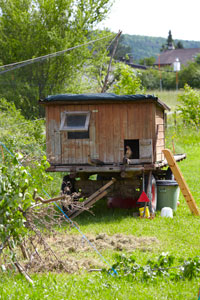 Even small moveable structures can contravene local regulations: make sure you find out!
Lightweight structures but heavy laws
In certain situations, you may find that the regulations are much heavier. If you live in a conservation zone with historic monuments, you might need to apply for a building permit for any structure above 2m². The conditions to satisfy are much stricter and the whole process longer. In this case, do not even think of building without obtaining the necessary administrative papers: if you do, it will not be long before you get in trouble for doing things on the sly!
Little by little but still illegal
Storing vehicles such as trailers is also controlled. You cannot get round the law by simply storing the vehicle under a structure that should not even be there… To avoid all the red tape some people may be tempted to build a small structure to start with and then enlarge it little by little. It is not a viable solution! The relevant law applies as soon as the size restrictions are breached. Let us take a concrete example: if you increase the size of your 18m² garden shed by a further 3m² then you effectively pass the threshold for a building permit. You must now request a building permit for the entire surface of 21m² and not just for the small extension that you made. Otherwise, it would be too easy!